4K Automatic Camera Tracking System
GONSIN Automatic Camera Tracking System can automatically track the speaker by the camera, and comprise of HD video tracking matrix, HD video conference camera and HD video signal switcher, to realize fluent and clear camera tracking image. The digital conference system has stable performance and is easy to use. It can be widely used in video conference, electronic classroom, technical training and other fields.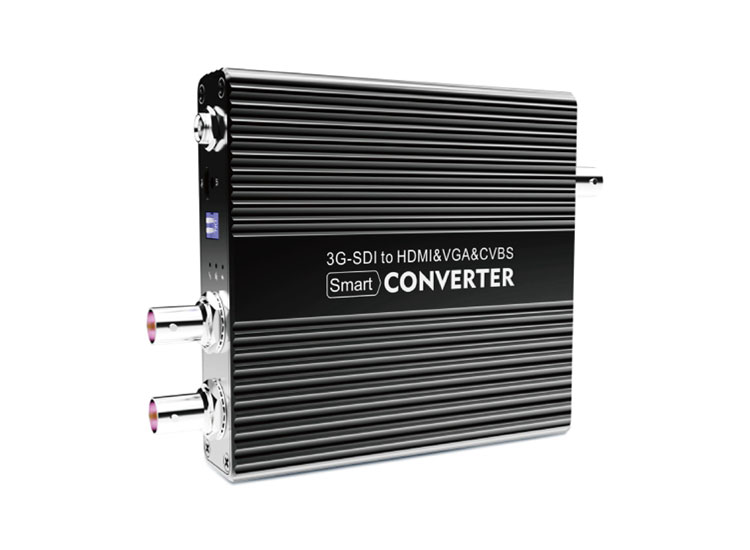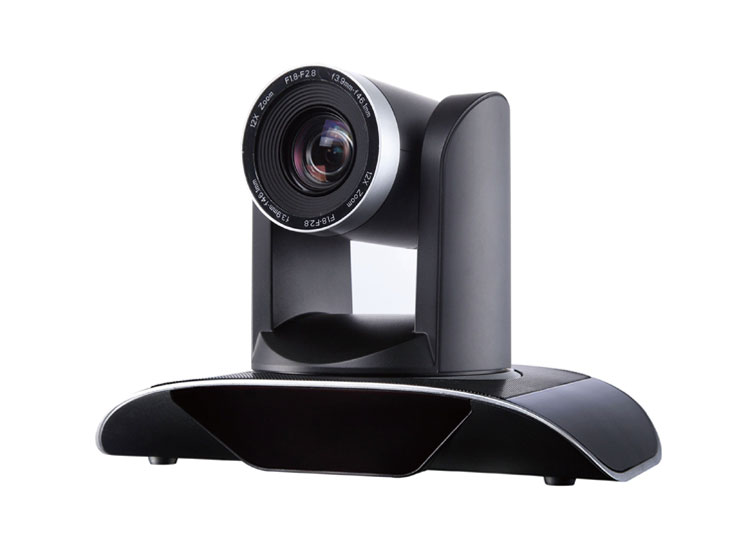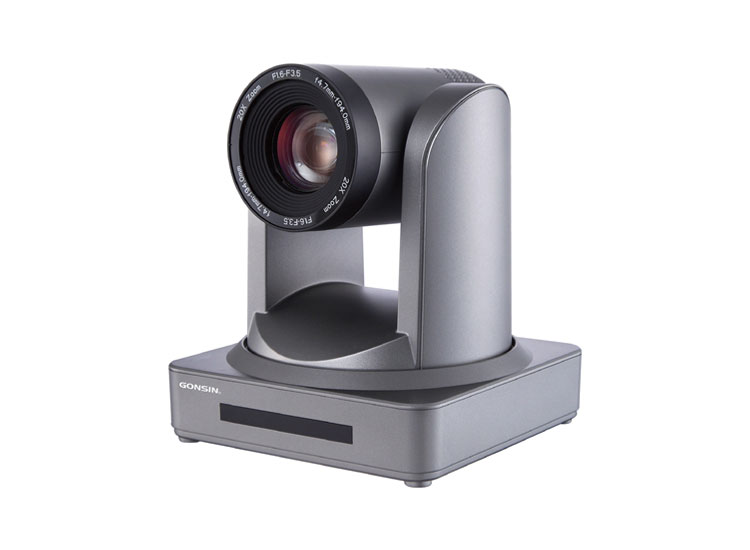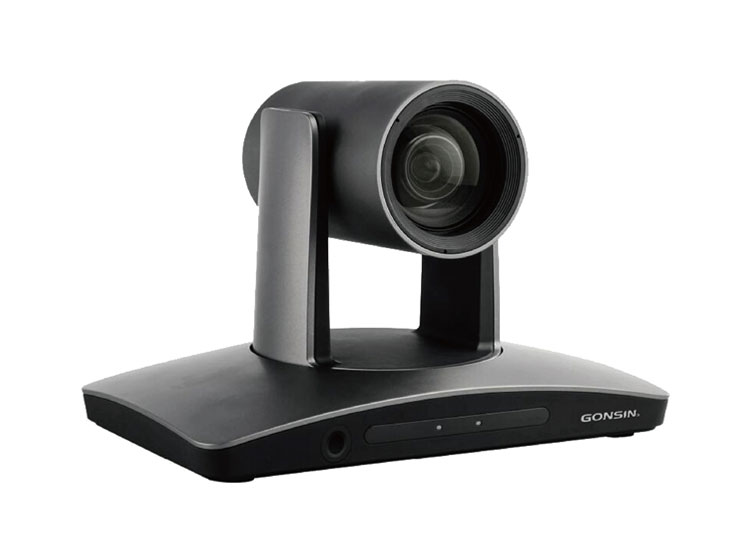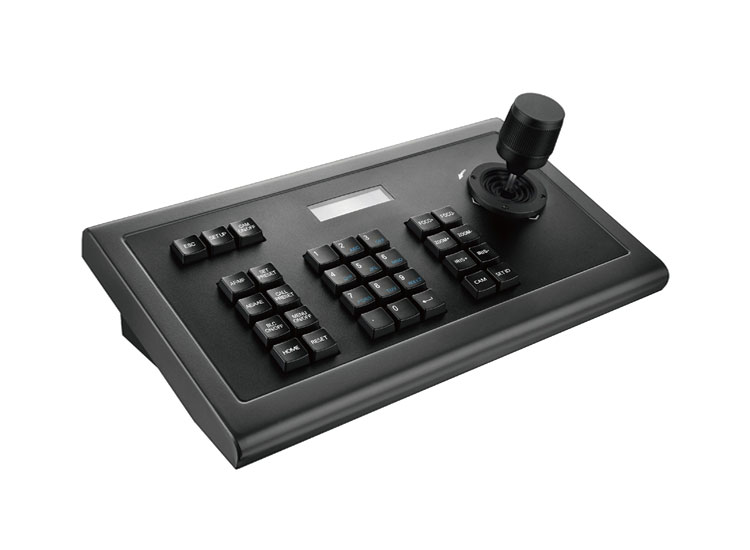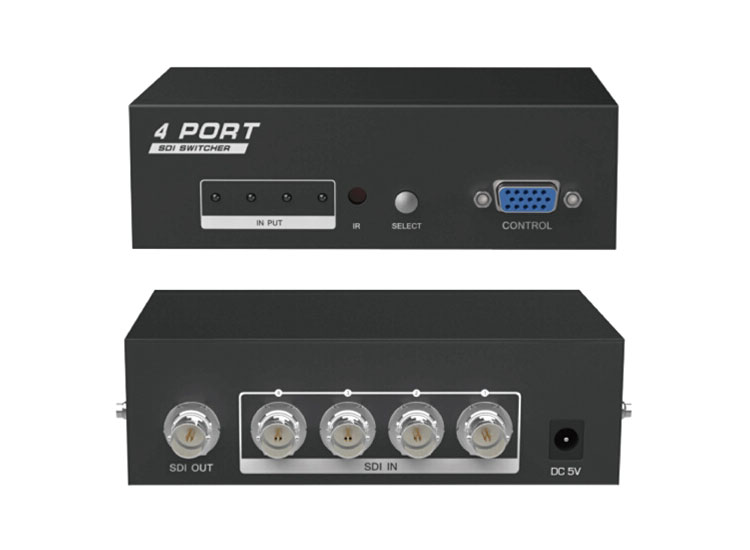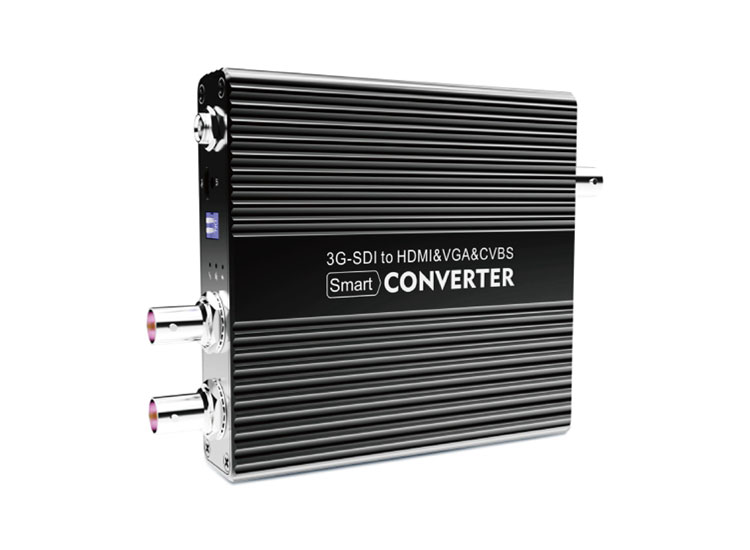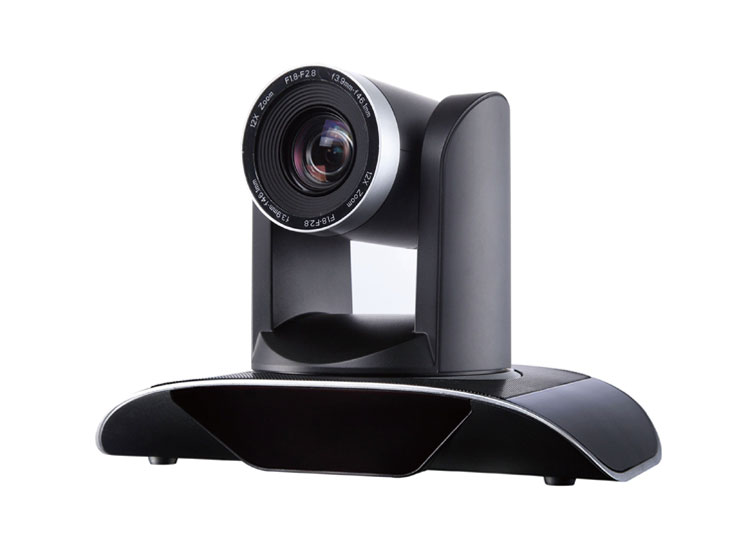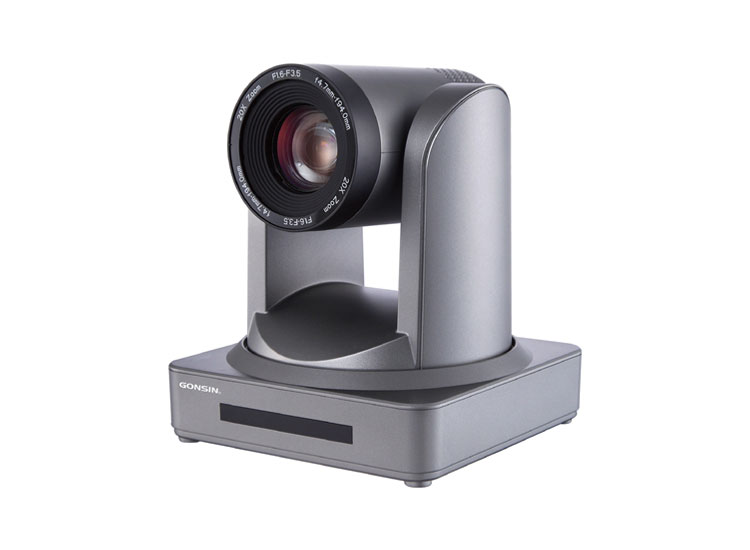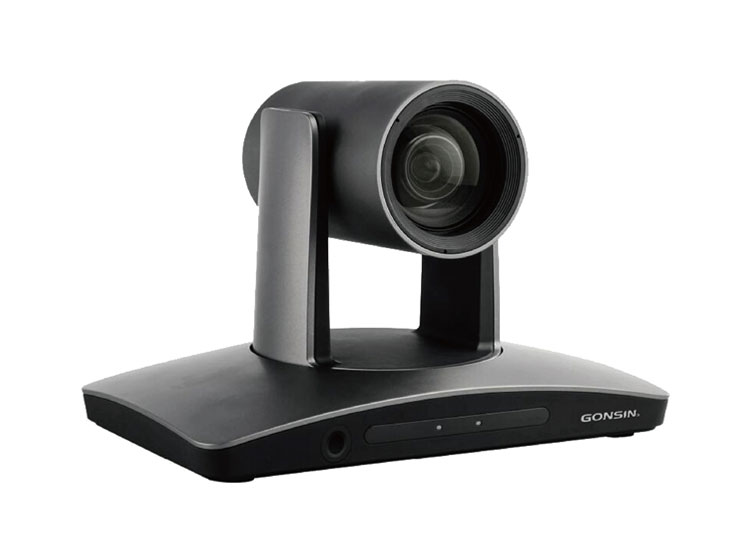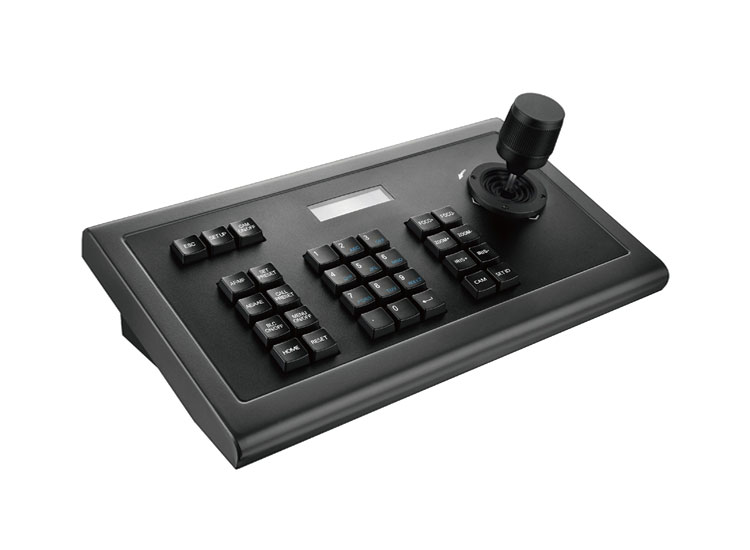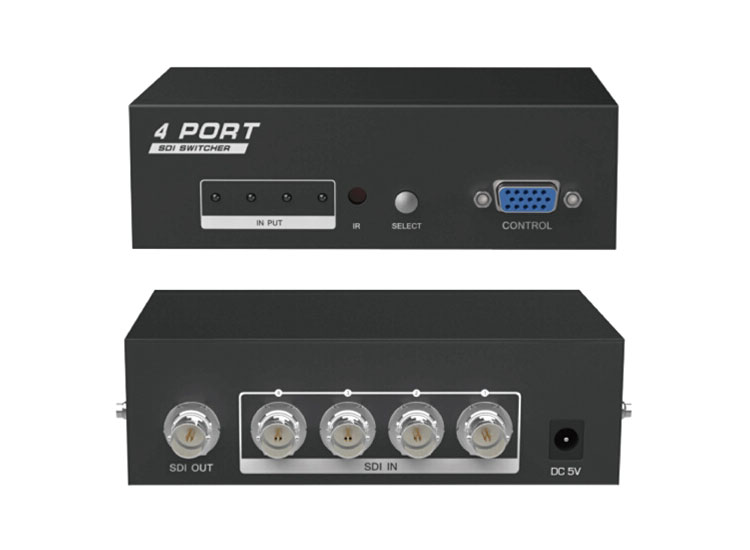 

Automated Camera Tracking System Features
The unique algorithm enables our 4k auto-tracking WIFI video conference camera to automatically track the presenter's faces and motions. The speakers can walk freely in the classroom without any accessories, provide guidance and problem solving, and ensure quality education. There is no need to worry about the connection restrictions, charging safety and extra costs of wearable devices, and focus on creating zero-distance interactive teaching.
GX-HD3310 / 3310S12 / 3310S30
GX-HD3320
GX-HD3330
GX-SDI0401M
GX-CV180
GX-KB01
Information of HD Dome Auto Tracking Camera System GX-HD3310 / 3310S12 / 3310S30
HD Dome Auto Tracking Camera System GX-HD3310 / 3310S12 / 3310S30 Functions
Superb high-definition image: The automatic camera tracking system employs a 1/2.8 inch high-quality CMOS sensor. Resolution is up to 1920x1080 with a frame rate of up to 60 fps

Audio Input Interface: The automatic face tracking camera supports 16000,32000,44100,48000 sampling frequency and AAC,MP3,PCM audio coding

Quiet PTZ: By adopting high accuracy step driving motor mechanism, the auto motion tracking camera works extremely quietly and moves smoothly and very quickly to the designated position

Multi-Format Video Outputs: auto-tracking security camera supports DVI (HDMI),3G SDI, wired LAN interfaces. The 3G-SDI is available for 100m transmission in 1080p60 format

Low Noise and High SNR: Low Noise CMOS effectively ensure high SNR of camera video. Advanced 2D/3D noise reduction technology is also used to further reduce the noise while ensuring image sharpness

The transparent transmission function of remote controller: The conference room camera with auto-tracking supports transparent transmission function, make the supporting equipment easy to operate

Low-power sleep function: The auto track switch camera supports low-power sleep/wake up, the consumption is lower than 500mW under sleep mode

Support Multiple Control Protocol: Support VISCA, PELCO-D, PELCO-P protocols which can also be automatically recognized. Support VISCA control protocol through IP port

RS-232 cascade function: ST series support RS-232 cascade function which is convenient for installing

255 presets positions: Up to 255 presets (10 presets by remoter)
Technical Specifications of HD Dome Auto Tracking Camera System GX-HD3310 / 3310S12 / 3310S30


Model
GX-HD3310S12
GX-HD3310
GX-HD3310S30
Camera Parameter
Sensor
1/2.8 inch high-quality HD CMOS sensor
Effective Pixel
16: 9, 2.07 megapixel
Video Format
1080P60/50/30/25/59.94/29.97; 1080I60/50/95.94
720P60/50/30/25 /59.94/29.97
Optical Zoom
12X f=3.9~46.1mm
20X f=4.7~94mm
30X f=4.3~129mm
View Angle
6.3°(tele)-72.5°(wide)
2.9°(tele)-55.4°(wide)
2.34°(tele)-65.1°(wide)
AV
F1.8~F2.4
F1.6~F3.5
F1.6~F4.7
Digital Zoom
X10
Minimum Illumination
0.5Lux(F1.8, AGC ON)
DNR
2D & 3D DNR
White Balance
Auto / Manual/ One Push/ 3000K/ 4000K/5000K/6500K
Focus
Auto/Manual
Aperture
Auto/Manual
Electronic Shutter
Auto/Manual
BLC
ON/OFF
WDR
OFF/ Dynamic level adjustment
Video Adjustment
Brightness,Color,Saturation,Contrast,Sharpness
SNR
>55dB
Input/Output Interface
Video Interfaces
DVI(HDMI), 3D-SDI
Control Signal Interface
8 cores mini DIN; RS-232 Ring through RS232 output
Control Protocol
VISCA/Pelco-D/Pelco-P;Baud Rate: 11520/9600/4800/2400bps
Audio Input Interface
Double track 3.5mm linear input;
HD IP Interface
100M IP port(100BASE-TX); Support Visca protocol control through IP port.
Compression Format
Support H.264,H.264+ Video Compression;Support AAC/MP3/PCM Audio compression
Image Code Stream
Dual stream output
Network Protocol
RTSP, RTMP, ONVIF, GB/T28181
Power Interface
HEC3800 outlet (DC12V)
PTZ Parameter
Pan Rotation
±170°
Tilt Rotation
-30° ~+90°
Pan Control Speed
0.1 -100°/sec
Tilt Control Speed
0.1 -45°/sec
Preset Speed
Pan: 100°/sec,Tilt: 45°/sec
Preset Number
255 presets (10 presets by remote controller)
Other Parameter
Supply Adapter
AC110V-AC220V to DC12V/1.5A
Input Voltage
DC12V±10%
Input Current
1A(Max)
Consumption
12W(Max)
Store Temperature
-10°C~+60°C
Store Humidity
20%~95%
Working Temperature
-5°C~+45°C
Working Humidity
20%~80%
Dimension
258mm*172mm*168mm
Weight
1.6KG
Operation Environment
Indoor
Remote Operation (IP)
Remote Upgrade, Reboot, and Reset
Accessory
power supply, RS232 control cable, remoter, manual
Information of HD Dome Automatic Follow Video Camera System GX-HD3320
Functions of HD Dome Automatic Follow Video Camera System GX-HD3320
Superb high-definition image: The smart auto-tracking wifi camera employs 1/2.8 inch high-quality CMOS sensor. Resolution is up to 1920x1080 with a frame rate of up to 60 fps

Audio Input Interface: Support 16000,32000,44100,48000 sampling frequency and AAC,MP3,PCM audio coding

Quiet PTZ: By adopting high accuracy step driving motor mechanism, the auto-tracking camera for video conferencing works extremely quiet and moves smoothly and very quickly to the designated position

Multi-Format Video Outputs: The video conference camera auto-tracking supports HDMI (DVI),3G SDI, wired LAN interfaces. The 3G-SDI is available for 100m transmission at 1080p60 format

Low Noise and High SNR: Low Noise CMOS effectively ensure high SNR of camera video. Advanced 2D/3D noise reduction technology is also used to further reduce the noise while ensuring image sharpness

The transparent transmission function of remote controller: Support transparent transmission function, make the supporting equipments easy to operate

Low-power sleep function: The auto motion tracking camera support low-power sleep/wake up, the consumption is lower than 500mW under sleep mode

Support Multiple Control Protocol: Support VISCA, PELCO-D, PELCO-P protocols which can also be automatically recognized. Support VISCA control protocol through IP port

RS-232 cascade function: ST series support RS-232 cascade function which is convenient for installing

255 presets positions: Up to 255 presets (10 presets by remoter)
Technical Specifications of
HD Dome Automatic Follow Video Camera System GX-HD3320
Camera Parameter
Sensor
1/2.8 inch high quality HD CMOS sensor
Effective Pixel
16: 9 2.07 megapixel
Video Format
1080P60/50/30/25/59.94/29.97; 1080I60/50/95.94
720P60/50/30/25 /59.94/29.97
Optical Zoom
20X; f=4.7~94mm
AV
F1.6~F3.5
View Angle
2.9°(tele)-55.4°(wide)
Digital Zoom
X10
Minimum Illumination
0.5Lux(F1.8, AGC ON)
DNR
2D & 3D DNR
White Balance
Auto / Manual/ One Push/ 3000K/ 4000K/5000K/6500K
Focus
Auto/Manual
Aperture
Auto/Manual
Electronic Shutter
Auto/Manual
BLC
ON/OFF
WDR
OFF/ Dynamic level adjustment
Video Adjustment
Brightness,Color,Saturation,Contrast,Sharpness
SNR
>55dB
Input/Output Interface
Video Interfaces
HDMI, 3G-SDI, LAN
Control Signal Interface
8 cores mini DIN; RS-232 Ring through RS232 output
Control Protocol
VISCA/Pelco-D/Pelco-P;Baud Rate: 11520/9600/4800/2400bps
Audio Input Interface
Double track 3.5mm linear input;
HD IP Interface
100M IP port(100BASE-TX); Support Visca protocol control through IP port.
Compression Format
Support H.264,H.264+ Video Compression;Support AAC/MP3/PCM Audio compression
Image Code Stream
Dual stream output
Network Protocol
RTSP/RTMP ONVIF GB/T28181
Power Interface
HEC3800 outlet (DC12V)
PTZ Parameter
Pan Rotation
±170°
Tilt Rotation
-30°~+90°
Pan Control Speed
0.1 ~60°/sec
Tilt Control Speed
0.1 ~30°/sec
Preset Speed
Pan: 60°/sec,Tilt: 30°/sec
Preset Number
255 presets (10 presets by remote controller)
Other Parameter
Supply Adapter
AC110V-AC220V to DC12V/1.5A
Input Voltage
DC12V±10%
Input Current
1A(Max)
Consumption
12W(Max)
Store Temperature
-10°C~+60°C
Store Humidity
20%-95%
Working Temperature
-5°C~+45°C
Working Humidity
20%-80%
Dimension
150mm*150mm*167.5mm
Weight
1.4kg
Operation Environment
Indoor
Remote Operation (IP)
Remote Upgrade, Reboot and Reset
Accessory
power supply, RS232 control cable, remoter, manual
Information of HD Dome Auto Tracking Video Conference Camera GX-HD3330
Functions of HD Dome Auto Tracking Video Conference Camera GX-HD3330
With infrared mobile camera tracking function (need to match the conference terminal of the specified model), the self-tracking camera can realize the intelligent tracking and positioning of the terminal. The terminal can move freely within the infrared detection range, and it can track in real-time without resetting the preset position

Support automatic tracking switching of multiple camera domes, support up to 8 camera domes and support multi-camera cascade control

Adopt infrared anti-jamming algorithm, stable and reliable. Be fearless of visible light and infrared light (sunshine, light, whiteboard and etc.)

Accurate positioning and stable tracking. The tracking picture can be automatically zoomed according to the distance of the target, always keeping the best size

The tracking effect is not affected by the size and shape of the meeting room

Switching codes such as target occurrence and loss can be arbitrarily customized through the parameter setting interface and can be flexibly compatible with other conference equipment

Support high-definition video H.264 encoding output, output full HD video up to 1080P60, support main and auxiliary dual-stream

Multi-Format Video Outputs: support SDI, DVI-D, NETWORK, and USD 3.0 video output interface.

Maximum tracking distance can reach 18 meters
Technical Specifications of HD Dome Auto Tracking Video Conference Camera GX-HD3330
Sensor
1/2.8 inches CMOS, 2.14 million sensor
focal distance
3.9mm~46.8mm
AV
F1.~F2.8
optical zoom
12 times
digital zoom
12 times
View Angle
72.5°~6.3°
Focus System
Auto / Manual/ PTZ/ One Push
Minimum Illumination
0.5 Lux (colors), 0.1Lux (black and white)
Shutter Speed
1/1 - 1/10,000 second
Tune-up
Auto/Manual
White Balance
Auto / Indoor / Outdoor/ One Push
Auto / Manual tracking
Exposure Control
Auto / Manual/Shutter Priority/Aperture Priority
SNR
≥50dB
Language
ENGLISH
Pan Rotation
-170°~+170°
Tilt Rotation
-30°~+90°
Pan Control Speed
0.1°~120°/s
Tilt Control Speed
0.1°~90°/s
Preset Number
256
Pan-tilt control interfaces
RS-232/RS-485/USB3.0
Network interface
100M self-adapted to Ethernet interface(RJ45)
Network protocol
PELCO-D, VISCA, UVC1.1
Video interface
3G-SDI, DVI-D, USB3.0
Video format
1080P60/1080P50/1080P30
1080P25/1080I60/1080I50
720P60/720P50
Resolution ratio
MAX 1920*1080@60fps
Video compression
H.264
Audio compression
AAC
Network protocol
ONVIF/RTSP/HTTP/TCP
UDP/RTMP
Video Preview Number
MAX 10, at the same time
Dual-stream
YES
Power
DC12V
Consumption
<30W
Operating Temperature
0~40°C
Storage Consumption
-20~60°C
Dimensions (L*W*H)
243mm×145mm×163mm
Color
Grey
Information of HD Automated Camera Tracking System-SDI Switch GX-SDI0401M
Functions of HD Automated Camera Tracking System-SDI Switch GX-SDI0401M
Adopt RS232 control interface, work with digital conference system and high-definition 4k auto-tracking WIFI video conference camera

Support 4-channel HD SDI signal input, 1 channel HD SDI signal switch output

Realize the tracking switch of up to 4 channels of SDI HD auto tracking video conference camera

Automatically recognize full SDI signal format: SD-SDI/HD-SDI/3G-SDI

High definition, fast switching

Power supply with industrial-grade design, long-lasting and stable

Intelligent circuit design, broadcast-level processing technology
Technical Specifications of HD Automated Camera Tracking System-SDI Switch GX-SDI0401M
SDI signal format
SD-SDI/HD-SDI/3G-SDI
Support SDI rate
143-2970Mb/s
SDI impedance
75Ω
SDI signal output amplitude
800mVp-p
SDI input resolution
480i@60Hz/576i@50Hz/720P@50Hz/
720P@60Hz/1080i@50Hz/1080i@60Hz/
1080P@24@25@30@50@60Hz
SDI output resolution
480i@60Hz/576i@50Hz/720P@50Hz/
720P@60Hz1080i@50Hz/1080i@60Hz/
1080P@24@25@30@50@60Hz
Power supply
Standard configuration: 5V1A
Overall power consumption
<2W
Product size
138×104×42mm
Information of SDI to HDMI Converter GX-CV180
Functions of SDI to HDMI Converter GX-CV180
SDI input formats: all formats are supported. SD: 525i @ 59.94Hz, 625i@ 50Hz HD: 720p @ 23.98Hz / 24Hz / 25Hz / 29.97Hz / 30Hz 720p @ 50Hz / 59.94Hz / 60Hz 1080i @ 50Hz / 59. 94Hz / 60Hz 1080p @ 23.98Hz / 24Hz / 25Hz / 29.97Hz / 30Hz 3G: 1080p @ 50Hz / 59.94Hz / 60Hz

SMPTE standards supported: 259M-C, 292M, 424M, 425M level A and level B

One SDI loopout port

OSD and menu for operation interface

Autodetects HDMI EDID info for optimal source-to-screen communications

Supports symmetric conversion of all formats

Blue screen alarm for signal loss

Manual VGA output 720p/1080p resolution selection

SDI embedded audio conversion to HDMI output

AV(CVBS)signal output(PAL/NTSC optional)

Allows remote controller for selection of forced output mode
Technical Specifications of SDI to HDMI Converter GX-CV180
Input socket
1×BNC SDI
Input signal type
SD-SDI(270Mbps), HD-SDI(1.485Gbps), 3G-SDI(2.97Gbps)
Input resolutions supported
525i 59.94, 625i 50
720p 23.98/24/25/29.97/30/50/59.94/60
1080i 50/59.94/60
1080p 23.98/24/25/29.97/30/50/59.94/60
SDI signal range
0.8Vp-p
SDI impedance
75Ω
SDI coupling type
AC Coupling
SDI jitter (typical values)
SD-SDI≤0.1UI HD-SDI≤0.2UI 3G-SDI≤0.4 UI
Max. input cable length
Belden 1694A: SD-SDI 400m, HD-SDI 200m, 3G-SDI 140m
Note: Cable length test result might be different according to cable types.
SDI loop output
1×BNC SDI
HDMI output
1×HDMI
AV(CVBS) output
1×BNC
VGA output
1×VGA
Frequency bandwidth
165MHz / HDMI 1.3 standard compliant
Dimensions (mm)
154*119*36 (W*D*H)
Power supply voltage
5-24VDC
Functions of Speed Dome Controller GX-KB01
LCD display both Chinese/English menu, with voice prompt when pressing buttons

3-axis joystick, adjust the speed of the camera or pan&tilt

2 dimension button control, can accurate to the speed of every state

Support PELCO P, PELCO D,VISCA protocol

Can control the rotate, zoom, iris, focus and camera parameter setting of the camera or pan&tilt

Adopting RS-485, RS-422 and RS-232 multi-interface, maximally connect 256 PCS integrated high speed dome and camera

Maximal Communication distance: 1200m (0.5mm twisted-pair)

Metal shell, computer keyboard key design

Commonly use special function button for selection and definition

Real-time display of the working status of the decoder and matrix

The communication interface has a automatic recovery design for short-circuit and over-current protection
Technical Specifications of Speed Dome Controller GX-KB01
| | |
| --- | --- |
| Communication method | RS-485 half duplex, RS-422 full duplex, RS232 full duplex |
| Communication rate | 1200/2400/4800/9600 |
| Interface | RJ45 network port, RS232 standard socket, binding post |
| Supply voltage | DC12V |
| Power consumption | 5W |
| Display method | LCD |
| Working temperature | -10~50℃ |
| Working humidity | 10~90% (no condensation) |
| Protection level | IP50 |
| Weight | 1.5Kg |
| Dimensions (L×W×H) | 271mm×181mm×54mm |