LPMA-E Low Power Consumption Multichannel Audio Network Bus Technology
The core technology of GONSIN full digital conference system is LPMA-E low power consumption multichannel audio network bus technology, which is innovated by GONSIN (the invention patent number: 201310750132.1). The audio data within conference terminals and internal transmission adopts DMA format. It receives audio data from one or multiple terminals, supports interpreted data processing and generates multiple channels of interpreted audio data, which occupies less system resources and ensures stable and efficient data transmission. This technology has been applied to all series of products of GONSIN full digital technological platform now.

AF-AM Attenuation Factor Audio Mixing Technology
GONSIN conference discussion system adopts distributed and server cluster network architecture, decentralization design, and superior capacity expansibility, avoiding the block caused by large scale of conference data and improving the processing efficiency of the server. It utilizes the panel point layout of the conference terminal and the function of audio partition, splitting and merging of different conferences can be reached, flexibly adjusting the composition of the conference system. This application depends on AF-AM attenuation factor digital mixing technology innovated by GONSIN (the invention patent number: 201310751976.8). This technology can avoid long data delay that is easily cased by network transmission when the devices receive audio data during the mixing process, and can make sure the communication within the discussion is stable and reliable. At present, this technology has been applied toe all series of products of GONSIN full digital technological platform.

FS-FHSS (Frequency Selection - Frequency Hopping Spread Spectrum) Technology

FS-FHSS wireless simultaneous interpretation system utilizes FS-FHSS( Frequency Selecting - Frequency Hopping Spread Spectrum) technology innovated by GONSIN. (the invention patent number: 201510679078.5). FS-FHSS technology is developed from the base of direct sequence spread spectrum and frequency hopping technology. When the system is working, it will detect and scan the environment frequency directly, and select the frequency band without interference. When the wireless signal is disturbed, it will automatically hop to other selected frequency band to avoid interference. This technology can ensure stable and reliable operation of wireless conference devices in complicated wireless environment. Meanwhile, the system utilizes unique coding-decoding technology, employs 128 digits AES encryption technique and grouping technique, which ensures its high security. This technology can be applied not only to GONSIN FS-FHSS wireless simultaneous interpretation system, but also to the realization of discussion, voting and other conference functions.

Multiple Backup Mechanism Escorting Important Conferences
GONSIN focuses on high-end conferences, especially attaches importance to system stability. So, GONSIN utilizes multiple backup mechanisms to ensure a secure, stable and reliable operation for the system, make sure no interference occurs during the conference, meets the strict device demands for high-end conferences.
Support dual hot stand-by function for servers, when the current server doesn't work, the backup server automatically take over.

Support dual hot stand-by function for management software, when accidents happens to the current control PC, the backup PC will automatically take over.

Support dual chains backup for conference terminals, the failure occurs in the main chain, the terminals will switch to the backup chain.

Built-in dual processing cores for voting terminal, which comes with dual data processing and transmission. Two systems work simultaneously to realize a seamless backup.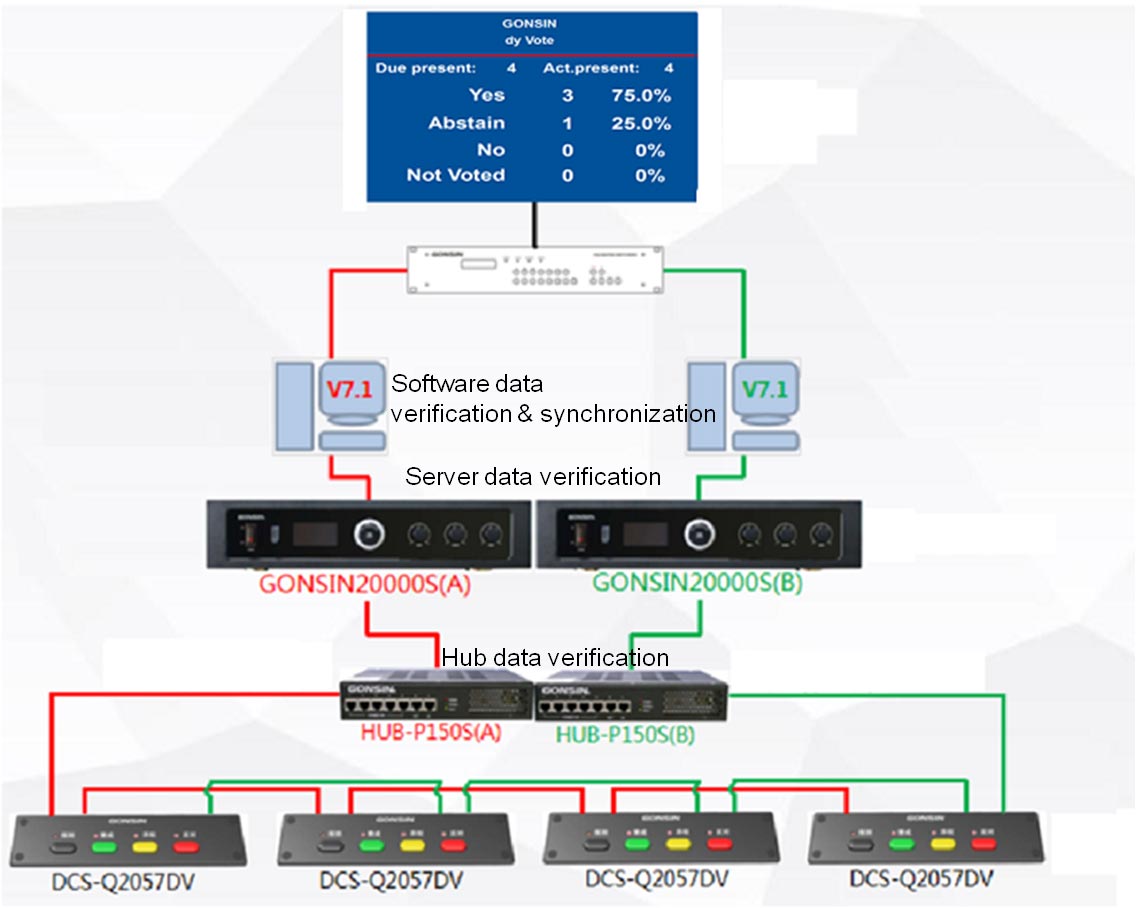 AI Enables Intelligent Conference, Extends Conference Plus Products

GONSIN pay attention to improve user experience and tries its best to build Conference + Innovative technology and Conference + Innovative Application with continuous innovation. GONSIN upgrades traditional conference venues with intelligent AI technology. So far, it has realized various intelligent AI applications including:
Intelligent automatic speech recognition system co-developed by GONSIN and Alibaba DAMO Academy, can realize roles separation for spokespersons, audio recording, automatically text transcribing, quick minutes of meeting and other functions, which greatly improves conference quality and meet users' demands of recording the conference.

Facial recognition technology, GONSIN extends facial recognition function to conference products including entrance access registration system and conference terminals. By employing facial detection, face compare, live detection and other functions, it can improve the convenience and safety of personal identification.
Efficient and Environmental Paperless Conference Technology

GONSIN paperless conference system integrates modern communication technology, professional audio and video technology, intelligent control technology and software technology into one new conference mode, which comes with four features such as network transmission, electronic display, intelligent edition, regulated input and output; During the operation, user can exchange information in real time. It realizes digital file exchange on the paperless management platform easily and efficiently.
The core functions of paperless conference system are conference agenda, conference topic management, browsing files, USB disk files, temporary files, digital whiteboard, messaging, call service, conference registration, voting and evaluation, video, shared screen broadcast, big screen display, browser, conference slogan, file not and others; GONSIN paperless conference system can extend various control function, support customized software for mic control, central control and others; It can be equipped with LCD mic lifting all-in-one terminal, realizes conference discussion, video automatic camera tracking function; it has reserved interfaces for expansion. With corresponding modules, it can realize conference voting, simultaneous interpretation function, offers a practical and convenient conference platform for users.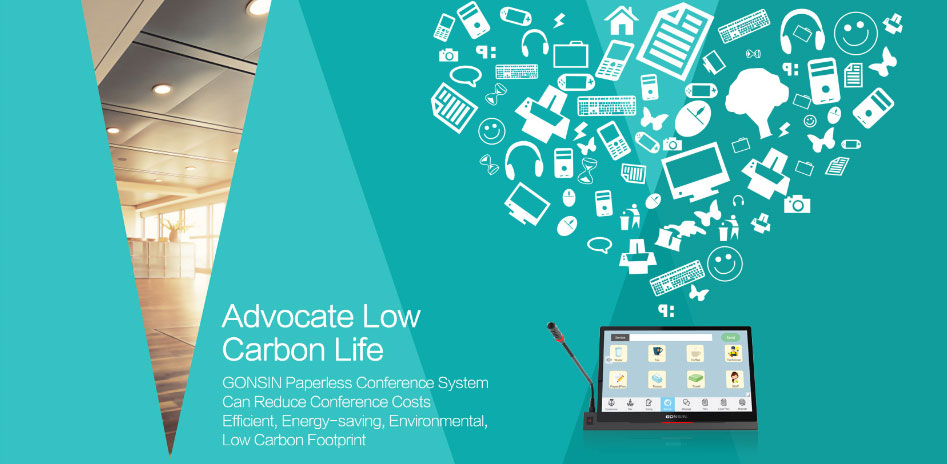 Self-developed Directed Cardioid Pick-up Technology

GONSIN leader series microphone employs directed cardioid pick-up technology, adopts 14 mm diameter gilded capacitance microphone, especially optimizes the structure design of the acoustic chamber. The pick-up directivity difference between 90°and 0°is more than 12dB. After repeated lab tests, it has been finalized. It offers the best sound quality for microphones, fully captures the sound details of the spokesperson, fully presents high definition audio.