Not only good quality but cheap? How to make the best of both worlds? Good news is coming! June 19, GONSIN 3300 series conference discussion system come into the market!
Refuse impulse, consume with rationality, what we want is quality. As the industry mainstream conferencing system manufacturer, GONSIN insists on the brand line of innovation and seeks the development strategy of products' differentiation from first to last since 2003, all the products have intellectual property rights. Over the years, GONSIN's products with excellent quality have caused a stir in the market and have won the approval of customers, the response to the 3300 pre-sale promotional activities for businesses is strong. GONSIN adheres to the principle of win-win and common development with businesses so that 3300 series have big promotion in the mid-year and all the businesses can really experience the charm of GONSIN's brand.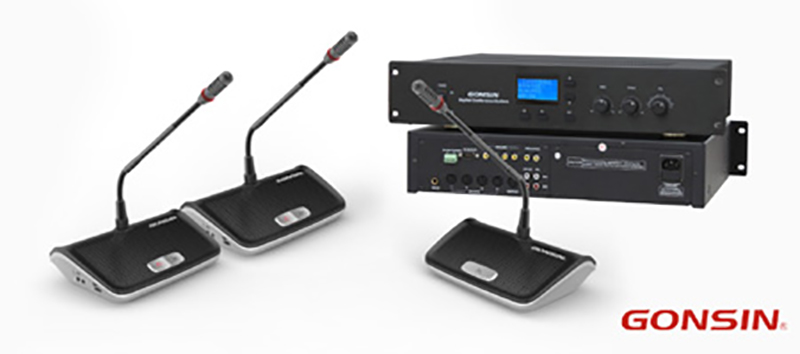 More convenient, more stable, more intelligent. GONSIN digital conference system followed the diversified integrated computing technologies with the automatic camera tracking, two-way measure, and the full checksum with parity, GONSIN also followed the perfect digital transmission and control technology, not only provides a powerful discussion, automatic camera tracking function, clear sound and fast data transmission but also realize the control and management of conference process. GONSIN digital conference system has stable and reliable quality, data security and accuracy, simple operation, easy maintenance, etc, also has good scalability for realizing a perfect seamless connection with the central control system.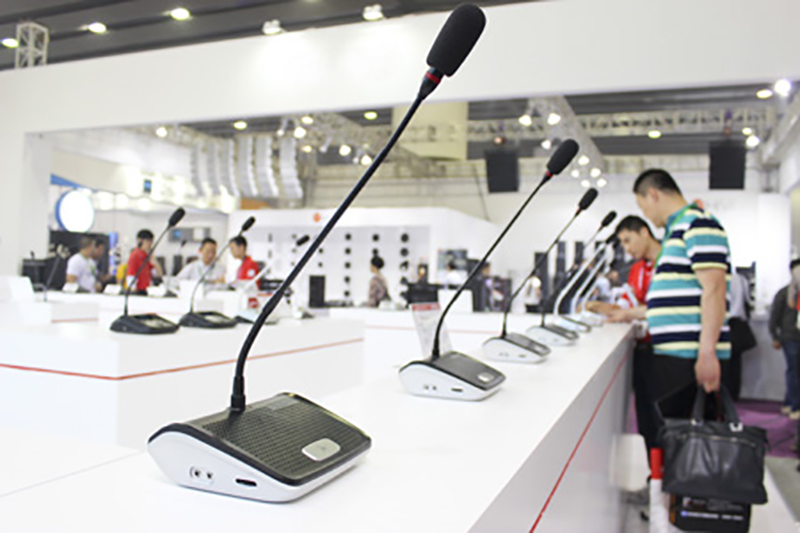 TL-V3300 basic discussion system is composed of Central Control Unit, Discussion Unit, conference management software (optional), computer, High-Quality Speed Dome Camera (automatic camera tracking for option) and peripheral audio and display devices, etc. It features microphone discussion, illuminated microphone stem, multiform microphone modes: AUTO/FIFO/OPERATOR, etc, automatic camera tracking functions (Supports automatic video camera tracking with preset panoramic position ). By connecting with the computer, the system can achieve conference registration, speak management, document management, and other functions, and remote networking. Good expansibility of system, suitable for conferences of all sizes.

Compact structure design, easily hidden unit connecting cables, more beautiful appearance.
TL-3300 digital discussion system has been improved a lot on the anti-interference performance, and it can satisfy customers' needs by a reliable system, simple operation, compact structure design, and a comfortable touch screen.
Main Features
Highly resistant to mobile phone interference


Multiple chairman /vice-chairman units are allowed


Pluggable gooseneck microphone


Easily hidden unit connecting cables


Built-in 4 × 1 SD camera tracking, Supports HD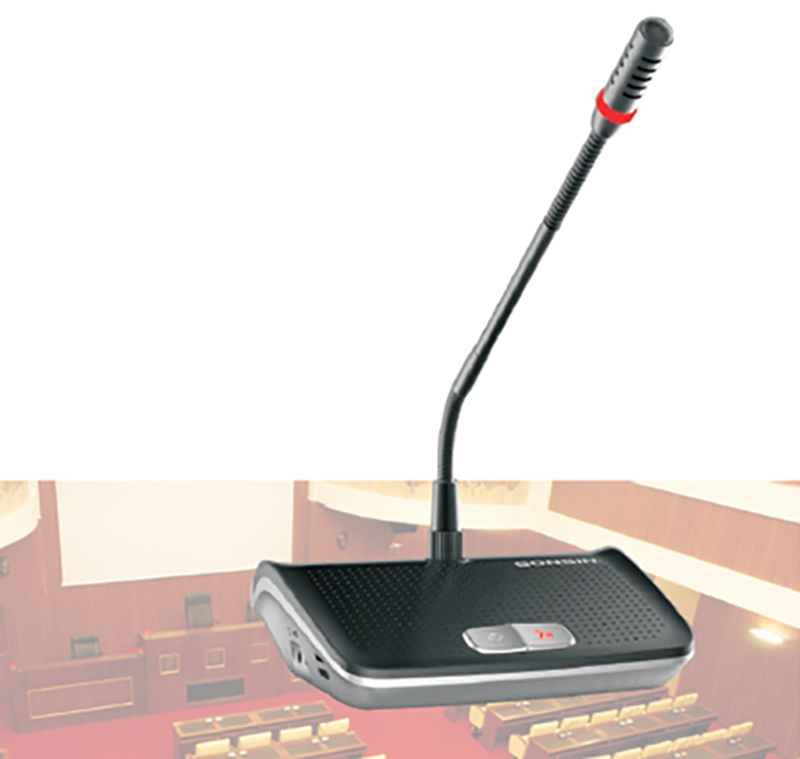 Basic Functions
OPERATOR; Floor audio listening via headphones or

built-in loudspeaker;

registration;

Supports automatic video camera tracking with preset panoramic position; Supports SD/HD video camera tracking;


Up to 20 chairman and vice-chairman units for one

system.

Other characteristics of chairman unit:

Chairman units can be activated at any time, Unlimited the number of open microphones;


Having a chairman priority key function, Chairman unit can

override/mute all the active delegate units.

Mounting type Tabletop
Frequency response 50Hz-18kHz
Sensitivity -46dB±4dB
THD <0.3%
SNR -95dB
Power input 24V
Microphone length Standard 410 mm,
Optional 310/510mm
Headphone jack Mono 3.5mm
Internal loudspeaker 4Ω/3W
Weight 0.75 kg
Dimensions 160×140×53 mm (W*D*H)
Operating temperature 0~45℃
Storage temperature -20~50℃
For more information about the products, please visit this website: https://www.gonsin.com/