The traditional intelligent conference system consists of audio conference system, intelligent centralized control system, matrix switching system, AV peripheral, audio system and peripheral, AV engineering supporting products and other systems. Moreover, these functional systems are composed of multiple subsystems.
The intelligent centralized control system includes a combined central control system, which is suitable for large conference rooms; a modular central control system, which is suitable for small and medium conference rooms; a cabinet-type central control system, which is suitable for round table conference rooms; desktop hidden central control system, suitable for round table meeting rooms with multiple signal sources.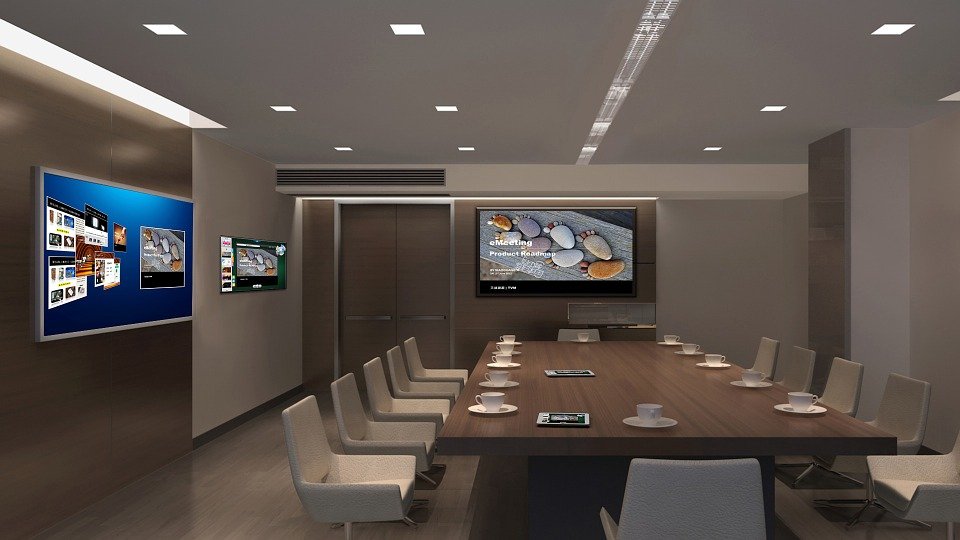 The audio conferencing system includes a conference discussion system, which is composed of a hand-in-hand speech sequence and a control terminal; a voting conference system, which is composed of a conference voting system and a speech terminal; a digital simultaneous interpretation conference system, which is composed of a simultaneous interpretation system and a digital control terminal.
1. Matrix switching system of conference system
Including AV matrix, VGA matrix, RGB matrix, HDMI matrix, HD DVI matrix, as well as network transmission equipment, signal interface and signal conversion equipment. The matrix of various signals is suitable for conference systems with different interfaces, and can basically cover all common interfaces.
2. AV peripherals of the conference system
Including programmable power controller, programmable dimmer, programmable volume controller, programmable control panel, hidden smart interface socket, protocol converter.
Power controllers and dimmers are used to control ambient lighting, smart interface sockets and protocol converters are used to control protocol conversion, providing high-quality solutions for conference rooms.
3. The sound system of the conference system
Conference anti-howling equipment, audio processors, professional power amplifiers, mixers, speakers, microphone systems, wireless microphone module, and wired microphones.
4. Advantages of conference system
In terms of product sources, since the equipment is purchased from different manufacturers, after-sales maintenance will inevitably be required if there is a problem with the conference system in the future: the dispersion of equipment is not only not conducive to maintenance, but may also cause mutual evasion between suppliers, making small problems have an incalculable impact on the smooth holding of corporate meetings.
From the point of view of user experience, the assembly-type smart conference room has many and miscellaneous on-site equipment, which occupies the venue area; the wiring is complicated, and it is inconvenient for the venue personnel to move around; the meeting site management is loose, and the atmosphere of the venue is easy to be dull; these will affect the effect and quality of the meeting.
The traditional combined intelligent conference not only requires professional personnel to construct and wire when it is arranged, but also requires a professional person to manage and maintain these devices in the later management and maintenance. According to this model, each device needs to be turned on and debugged before the meeting. The process is not only troublesome but also time-consuming, and it is also an invisible burden on the enterprise.