The 4-day Integrated Systems Europe(ISE 2019) has been held in RAI exhibition center, Amsterdam, Netherlands, during February 5-8th. Thousands of exhibitors in AV & integrated systems industry from all over the world have gathered here, holding a feast for people in this industry. ISE, the most successful AV and integrated systems exhibition in Europe, has gone through 15 years ever since its first hosting in 2004, and has embraced increasing number of exhibitors and visitors.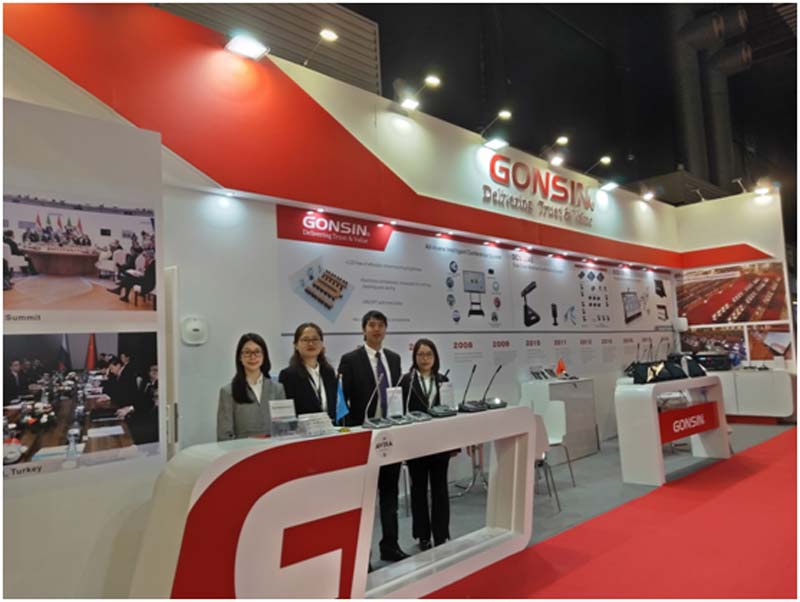 In this exhibition, GONSIN has displayed many new products: Leaders Series Rectangular Columnar Short Microphone MIC-240A, All-in-one Intelligent Conference Monitor, Desktop Paperless Terminal, DCS-2043 Dual Chain Backup Digital Conference System, and FS-FHSS Wireless Simultaneous Interpretation System.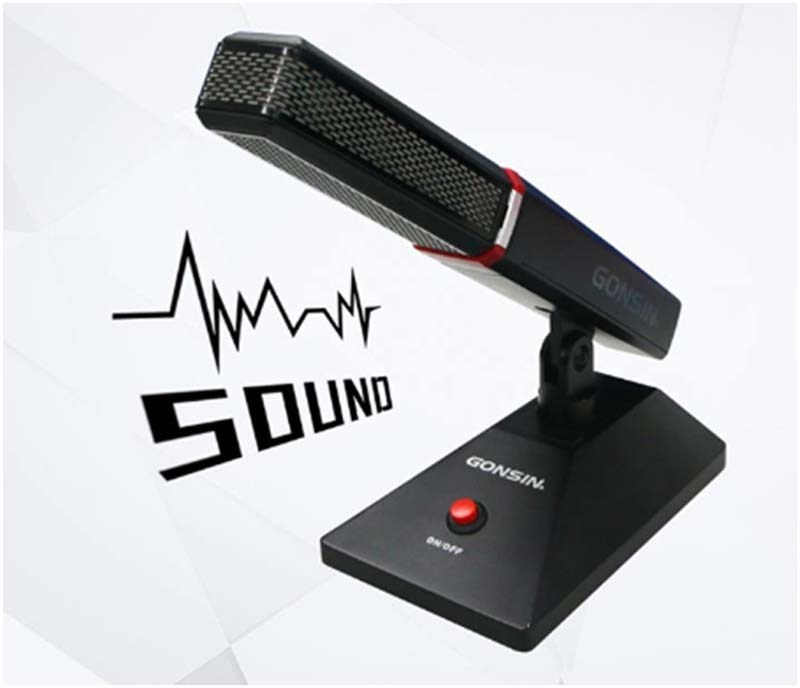 Leaders Series Rectangular Columnar Short Microphone MIC-240A, as the brand new master piece in 2019, adopts multiple audiohead, cardioid directed electret microphone. The 14 mm diameter gilded capacitance microphone can deliver clear sound effect. With built-in windproof cotton, the structure design of the acoustic chamber is optimized and the sound quality become better. Full-metal Pedestal with rectangular columnar microphone, demonstrating elaborated and brilliant design.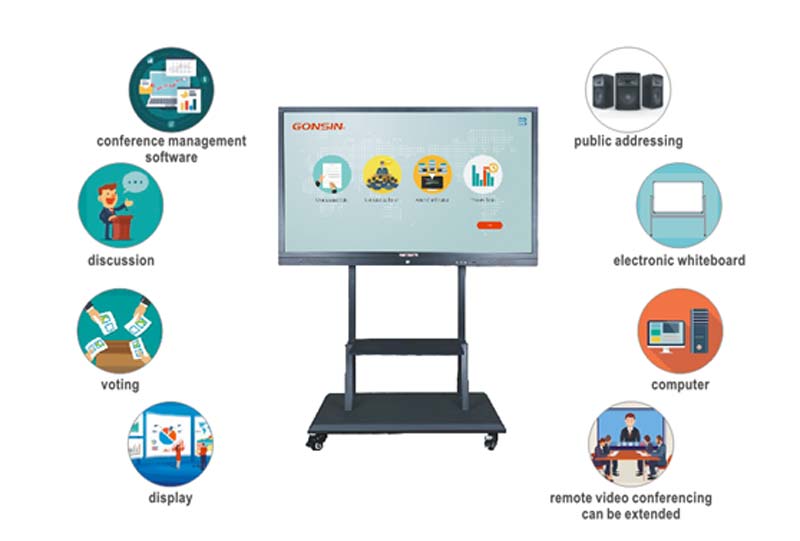 GONSIN All-in-one Intelligent Conference System integrates discussion, voting, display, public addressing, electronic whiteboard, camera and computer, perfectly connecting each part, and simplifies venue layout. With audio and video integrated in one machine, it carries out more diversified conference experience.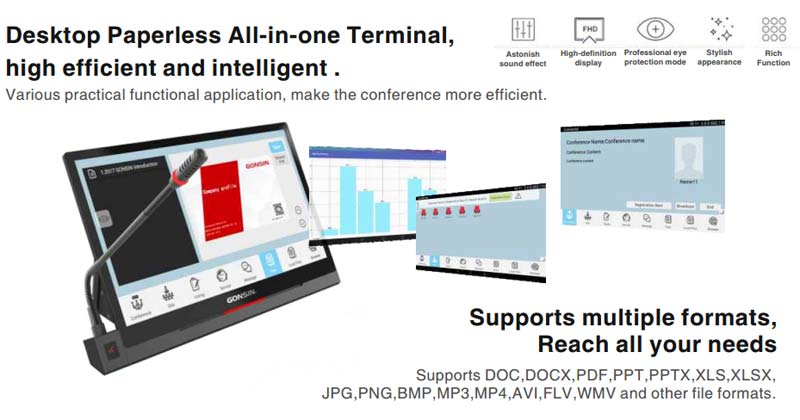 Desktop All-in-one Paperless conference system has multiple products, including desktop all-in-one terminal, LCD lifting terminal and tablet terminal. And those paperless terminals can co-work with multiple products of conference discussion system, together carrying out extension of functions and system and meeting all kinds of requirements of different customers and conference situation. Besides co-working with other products, it can also be connected to Z4 conference discussion and voting series, realizing the interconnection and intercommunication of platform data and forming a super-large paperless conference system.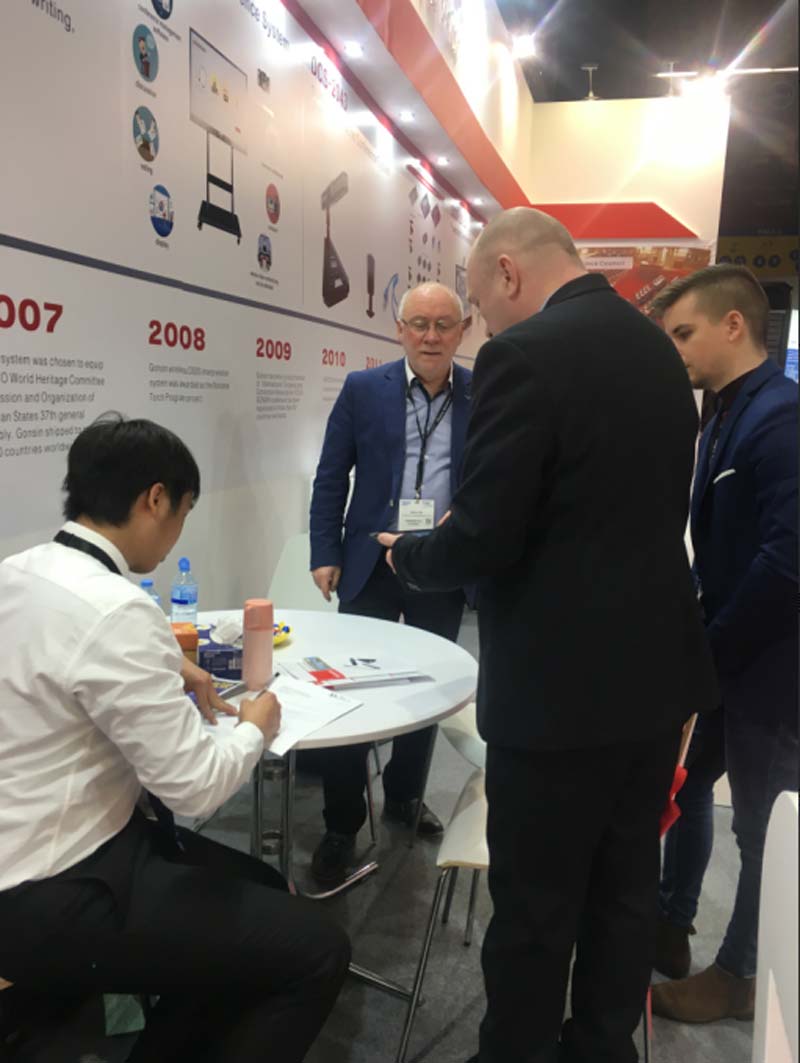 GONSIN has received approvals from clients visiting the stand for its good quality, and safe and reliable performance, which, at the same time, creates condition for GONSIN to further explore the global market. In 2019, GONSIN, upholding its innovative and hardworking enterprise spirit, will continue to improve its product and service quality, and fight to reach a new height.