Simultaneous interpretation is currently on the rise, with businesses, educational institutions, and organizations hosting events and conferences where participants speak different languages. The need for precise communication between the different language groups has made the demand for simultaneous interpretation services skyrocket, and while traditional wired systems have been in use for a long time, wireless simultaneous interpretation systems are revolutionizing the industry by providing several advantages that traditional systems cannot match.
Ease of set-up and portability
Wireless simultaneous interpretation systems do not require significant or extensive set-up time compared to traditional wired systems. As the name suggests, a wireless simultaneous interpretation system operates without the need for cables, thus eliminating the stress and time of laying out wires for the set-up. A wireless simultaneous interpretation system is easier and faster to install, disassemble and move than traditional wired systems. With a wireless system, you can set it up and use it just about anywhere, making it the ideal solution for those who may not have a permanent venue for their events, or who host events in several venues.
Cost-efficiency without compromising quality
Wireless simultaneous interpretation systems offer cost savings, both in the short and long-term. Traditional wired systems may require specialized equipment and accessories that can be relatively costly, and may also come with fees such as transportation, installation, and disassembly charges. In contrast, wireless simultaneous interpretation systems require little equipment, no specialized knowledge for installation, and no additional charges. The wireless nature of these systems streamlines the interpretation process, making it a cost-efficient option that never compromises on quality.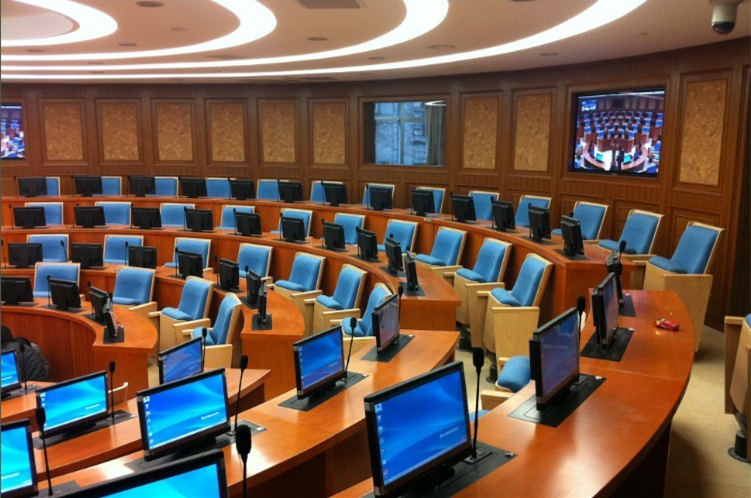 Elimination of cable limitations
Traditional wired systems come with cable limitations that limit their range of operation. Cable length and the need for multiple microphones and headsets can cause their use to be somewhat limited in scope. On the other hand, wireless simultaneous interpretation systems completely eliminate such limitations, providing users with the freedom to move about while enjoying perfect audio clarity. Wireless systems can be extended to other areas without worrying about cables and their limiting range. This way, individuals required to use the system can freely move about and interact without worrying about the hindrance of cables and equipment.
Wireless simultaneous interpretation system technology is growing, with its ability to eliminate the limitations experience by traditional wired systems, and gonsin digital conference system is at the forefront of the AV industry. The three advantages mentioned, ease of set-up and portability, cost-efficiency without compromising quality, and elimination of cable limitations make these systems an exceptional solution for those looking to create an outstanding experience for their audience. Therefore, if you are hosting an event that requires simultaneous interpretation, choosing a wireless simultaneous interpretation system should be your best bet.