Intelligent conference system
The intelligent conference system provides features such as sign-in, voting, multi-language translation, live video tracking, and speech management. It achieves a high level of humanization and technology, making the conference easily controllable with just one click. The intelligent conference system is widely used in modern smart buildings and plays a crucial role in major conferences.
The intelligent conference system is currently the most advanced digital conference system in the world, using a simple network system to process and transmit digital signals. It utilizes network time division multiplexing technology and digitizes languages. Multiple speakers can talk, discuss, vote and make decisions simultaneously on the same cable.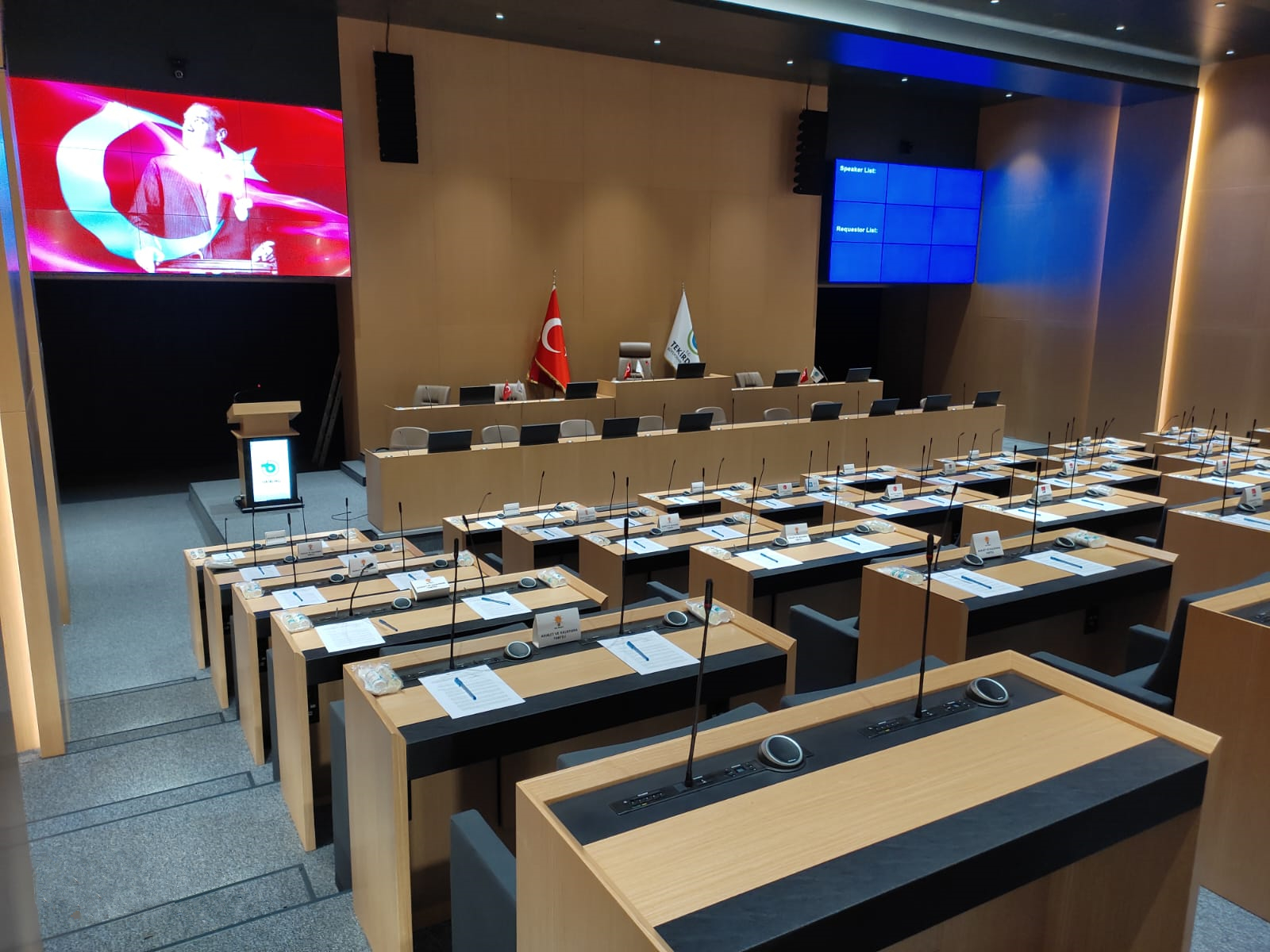 Design principles of intelligent conference room system
With the increasing popularity and improvement of computer-centered intelligent conference systems, new means and methods have been introduced to the work of conference management. In recent years, visual information technologies such as video conferencing and remote learning have been widely used in conference rooms, and intelligent conference rooms have quickly gained popularity, thanks to their various functions, such as on-site conferences, academic reports, training, and teaching.
In intelligent conference rooms, whether for presentations, summaries, reports, business negotiations, or product introductions, interactive computer-operated images, text, sound, video, and visual aids fully stimulate the sensory perceptions of the participants and significantly improve the effectiveness of conferences.
In the field of office technology, multimedia has increasingly demonstrated its advantages. The design principles of the intelligent conference system in this leisure club should follow the following principles:
Feasibility and Adaptability. The system must ensure technical feasibility, a great cost-performance ratio, and have the capacity to meet future developments.

Practicability and Economics. The system should focus on practical, economic, and effective applications.


Advancement and Maturity. The design of the conference system should use modern innovative designs as well as mature structures, equipment, and tools. The adoption of mature mainstream technology can reflect the current advanced level, has development potential, and can smoothly transition to the next generation of technology. Key equipment should use internationally-recognized advanced products.


Openness and Standardization. The system must have openness and standardization in order to achieve collaborative operation capabilities among the equipment used, long-term effects of system investment, and the expanding functional requirements of the system.


Reliability and Stability. While considering technological advancement and openness, the system structure, technical measures, equipment performance, application management, technical support from manufacturers, and repair capabilities should be taken into account to ensure the system's reliability and stability.


Compatibility and Easy Maintenance. In order to adapt to the changing requirements of the conference system, system compatibility and maintenance must be achieved with the simplest methods and minimum investment.